_ As always in the wrong place the wrong time….This thought flashed through her mind as she was staring at the image before her speechless under her hood. Of course being the Shade s wanre was very promising…but as it s obvious the Shade was not as easy to be found when she was to report to him her success.And as she was gaining more power and focus in her Divination studies , she should admit that her visions were more chaotic than ever, leading her sometimes exactly where and when she wanted to be, but sometimes exactly where she shouldn't be…like now! So with the destroyed liches ring still in her pocket there she was..in front of a Handmaiden in the circle of Szith, talking
to
a young yath'abban. Unable to ignore her or run away , she dropped on her knees and listened carefully.
[center]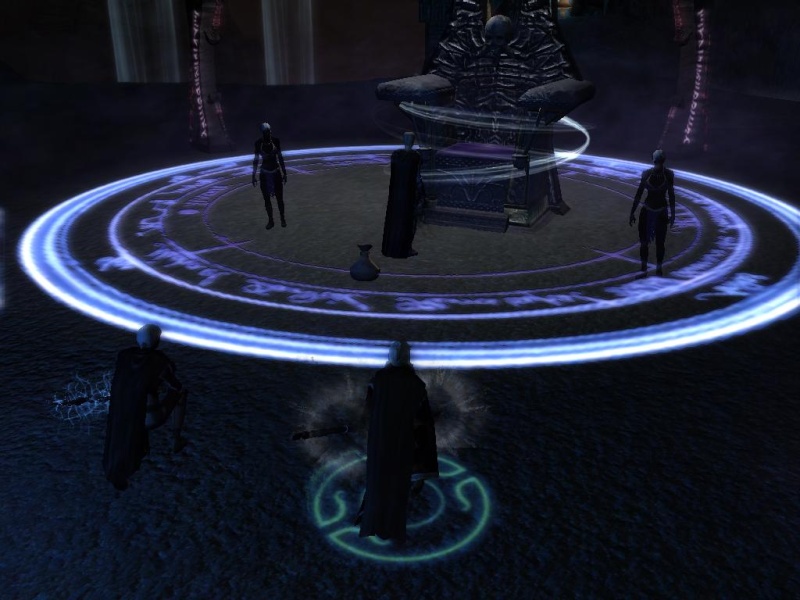 _ It was again about these shards..these shards for which, sargtlins and faerns , even yath'abbans and yathrins were slaughtering every lesser creature in the caves in a mindless hunt in her opinion..the yath'abban by the circle confessed that she possessed one of them though.. requested from the Handmaiden information for more , testing her patience to the limits... Then images of murder ran in Elisee's mind... chaotic thoughts of finding ways to get this shard…concentrating as much as she could , her training in the sorcere helped her to shield her mind and, from the cold maddening laughter of the Handmaiden, realised that she was the one that tried to invade it…with her strong will, Elisee amused her. She invaded again , this time more focused and managed to steal from her a flash of an image…a mere shadow of a thought…a shadow that revealed a Shadowy figure that the Handmaiden recognised and knew very well…
_ The Handmaiden raised her hand slowly and comanded *Dos*, as she left an item inside the circle of Szith, in front of her feet…Elisee had with no choice but obedience and moved closer…thininking it would be wise not to step in the circle she started casting a small spell of telekinisis to move that thing whatever it was…Pain tortured her head immediately and the Handmaiden chuckled amused…Elisee entered the circle and reached for it..yes there was no doubt..this was it..it HAD to be it…
_Right appon holding the item, her mind froze and she was paralysed , able to barely stand on her knees as the Handmaiden in all her glory invaded her defenseless mind to storm in it…Images of the shards came in her mind , and she could see 8 more shards and the one she was holding..in her hulluciations she could see her self weak and faceless, unimportant..and then the final image made her fall on the ground..a gem in the size of a kings tear but so powerful..she couldn't walk away as she felt her self fainting…the Handmaiden anounced in her mind: "HE WILL WANT IT!" and images and Handmaiden disappeared.
_No she couldn't faint..she should regain control..no, she HAD TO regain control (reminded her self as she noticed the young yath'abban eyes cold uppon her after the Handmaiden disappeared)..she had no time..and she had no choice..and she thought that she d better raise some of her defences on her way to the Sorcere.."..now how did He cast this last spell he taught me…a shield of shadows*starts casting*"